BELLE PHOENIX / THE CHIEFS / JEAN RAMSAY
November 2, 2022 @ 9:00 pm

-

11:00 pm

7€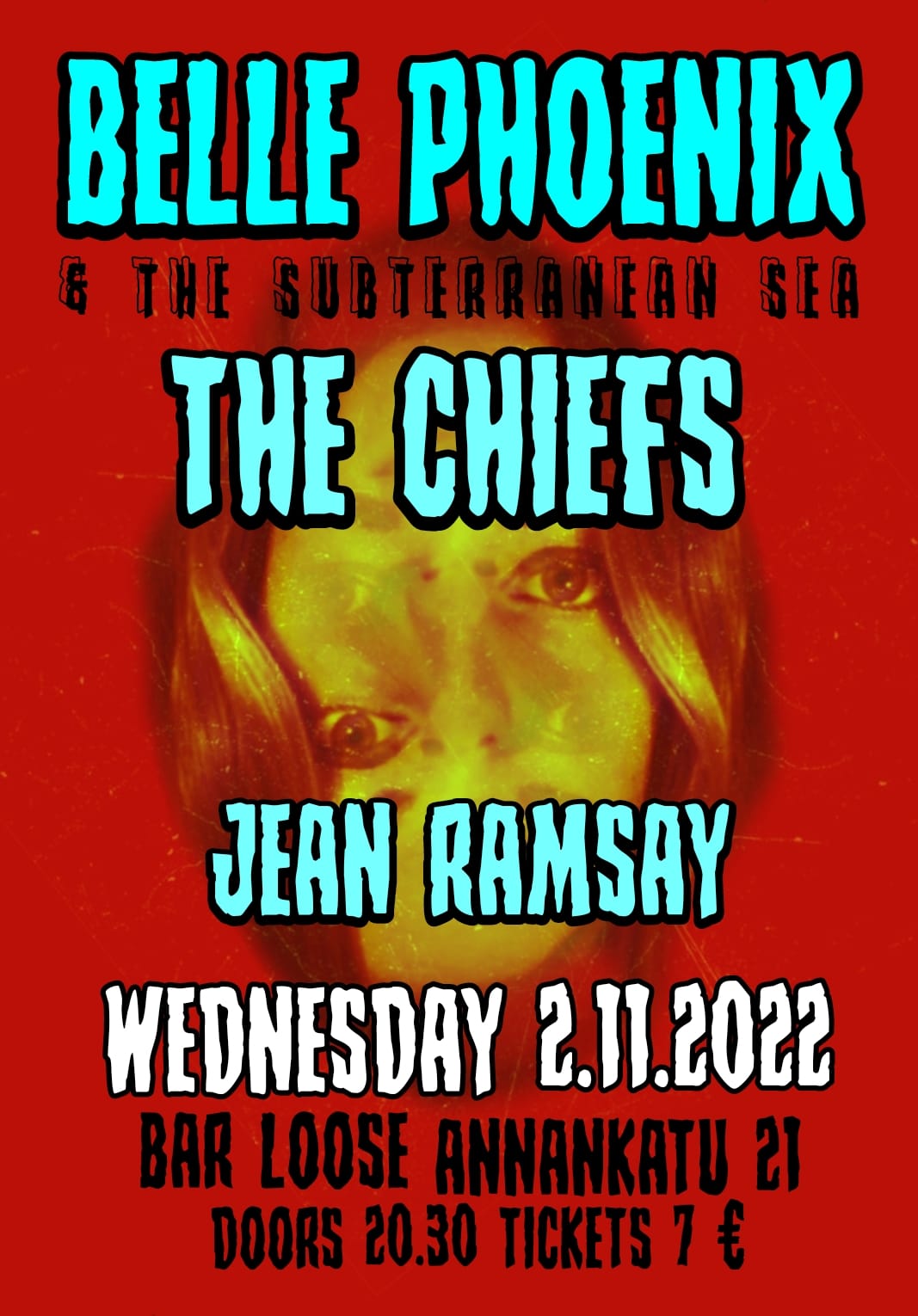 BELLE PHOENIX & THE SUBTERRANEAN SEA
Dirty punk mixed with a dystopian scifi nightmare, The Subterranean Sea could be the soundtrack of B-movie, sexploitation films. Hailing from Australia, the duo has been on a rampage in Finland playing their raw and at times erotic music to whoever will listen, be it on the streets and at private parties and various venues. The duo has almost finished their second D.I.Y album TERRAFORM recorded at the local library, after releasing The Glorious Dead vinyl record in Australia and France 2021.
THE CHIEFS
"Vähän niinku baarin lattia mutta kaikista parhaimmalla tavalla"
"JEAN RAMSAY
on helsinkiläinen laulaja-lauluntekijä, joka operoi country- ja folktraditioiden väljässä viitekehyksessä, mutta omalla jäljittelemättömällä äänellään. Hänen laulunsa sukkuloivat subliimista tragikoomiseen ja takaisin, eikä niiden kutsuminen humaaneiksi ole korulause, vaan yksinkertainen toteamus. Niin sooloartistina kuin muussakin toiminnassaan musiikin ja kulttuurikritiikin parissa Ramsayn tekemisiä voi kai sanoa leimaavan ennen kaikkea pyrkimyksen täydelliseen vilpittömyyteen suurella sydämellä." – Niko Aslak Peltonen
OVET 20.30, SOITTO 21.00!
Liput 7 € (+3,5 € eteispalvelumaksu).