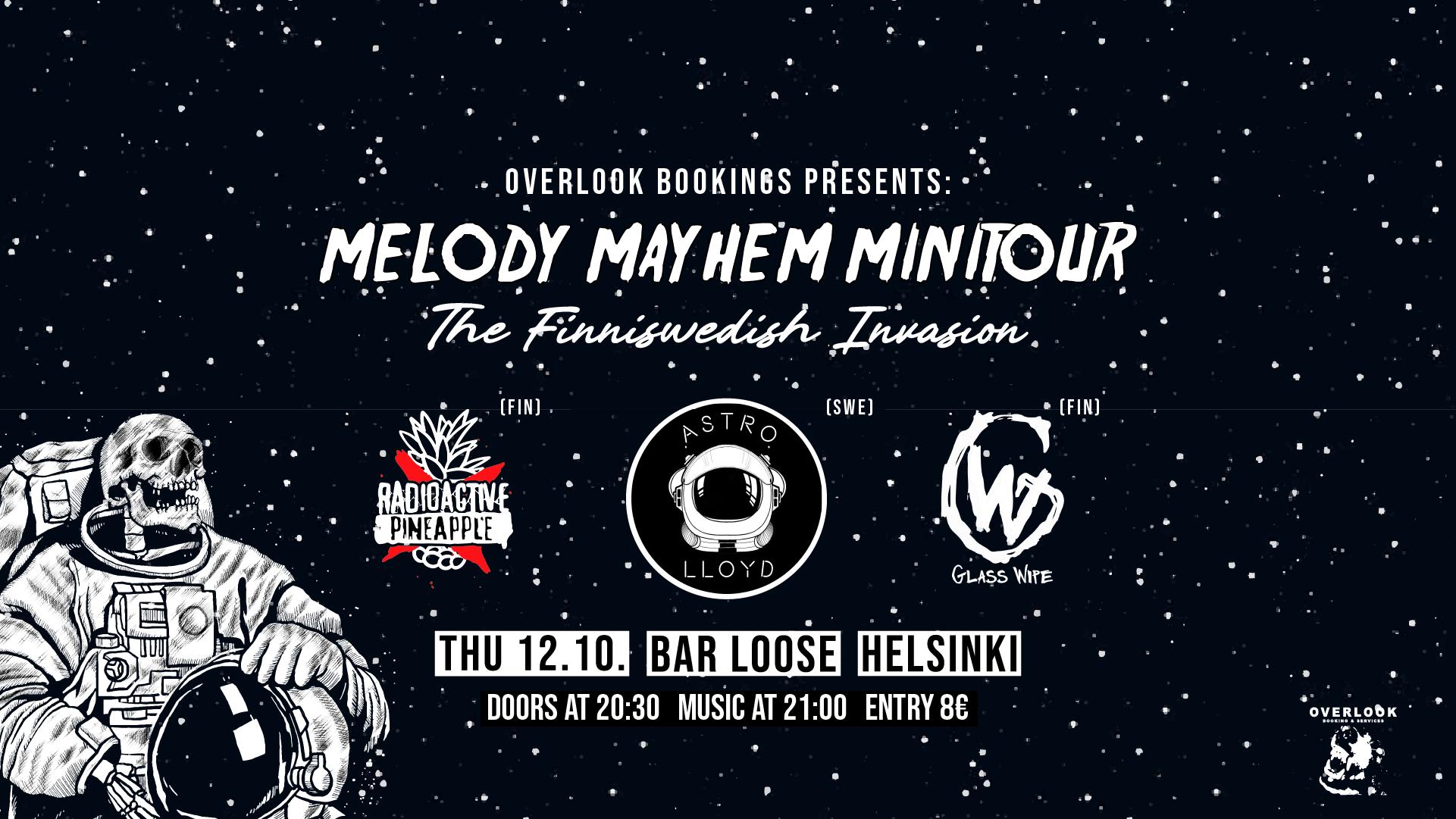 Come witness the greatest collaboration in a long while! Glass Wipe opens the night at Bar Loose with a bang and with songs so fast that the whole universe might collapse. Followed by the boys of Sweden, one and only: Astro Lloyd! These dudes are coming here straight outta Malmö just to show you how it's done! As a final treat we have Radioactive Pineapple finishing the job.
– – –
20.30 The Doors
21.00 Glass Wipe
21.45 Astro Lloyd
22.30 Radioactive Pineapple
– – – –
Ticket price: 8 euros (+3,5 € cloak room fee)
– – –
ASTRO-LLOYD (Malmö, SWE)
Astro-Lloyd is all about the love for music. The band is constantly seeking to widen their musical horizon by using inspiration from a variety of genres to create a unique sound and delivers energetic live performances. The biggest influences are found in Biffy Clyro's lust to
experiment and the arena choruses of Foo Fighters, topped off with the energy from bands like The Hives and Royal Republic. Following up on their debut album 'Astro-Life' från 2017, the band is releasing 'LOUD NOISES on June 2. Follow them on Spotify to stay alert on the latest space rock releases coming your way.
GLASS WIPE (Kemi, FIN)
We play fast and aggressive yet psychedelic punk rock 'n roll. Touring as much as we can. These gigs are part of the 10th year anniversary tour of the band. Latest album "Co Lo Mone" available everywhere.
RADIOACTIVE PINEAPPLE (Helsinki, FIN)
An emerging skate-/pop-punk band from Helsinki, Finland with catchy choruses and lyrics dealing with mental health, Radioactive Pineapple formed in 2014 at the deep woods of Nuuksio. They are heavily influenced by the California punk scene by bands such as Blink-182, NOFX, Green Day and Alkaline Trio. The lineup has changed a lot along the years, but despite the hardships and changes they kept on going strong. They released their first EP "Horses Wearing Horses" (2018) with only two members in the band at the time; Ozzie vocalist/guitarist and Thoubi drummer. After the release some time passed before they found a suitable bass player candidate, but managed to make the band whole again by inviting Jake to the band. They went on to make the album "YES!" (2022) completely DIY. Their story still continues now with the additional guitarist Johnsson and the "Insane"- EP released in June 2023, only now with much more motivation and drive than ever before.