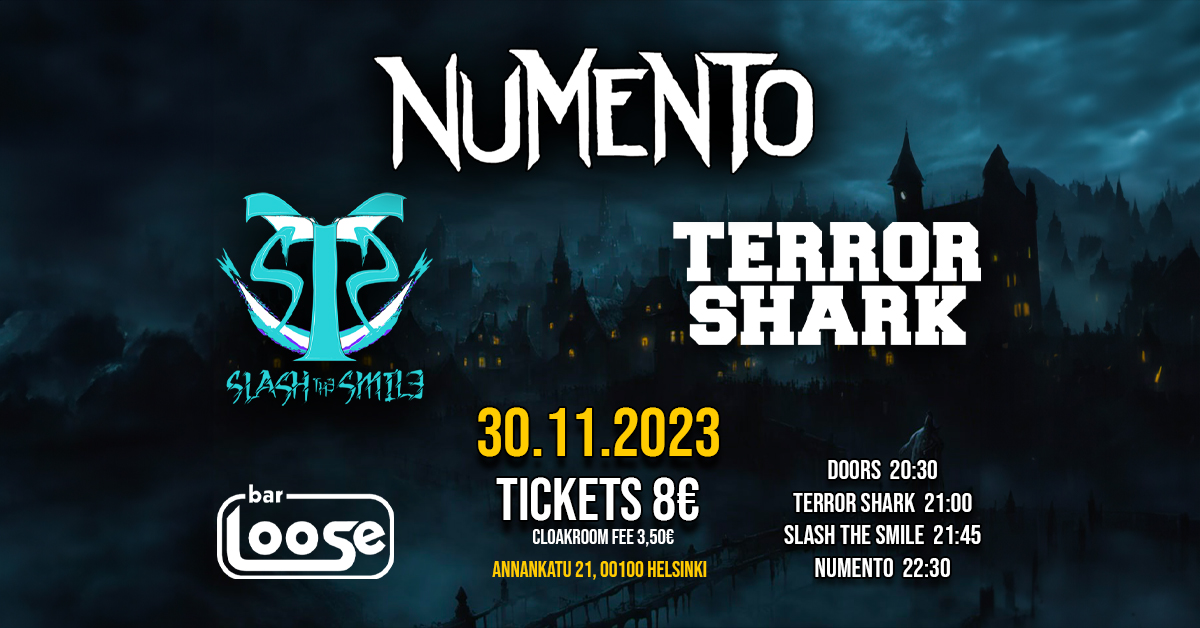 Bar Loosessa raikaa 30.11.2023 monipuolinen raskas musiikki, kun torstai-illassa lavan valtaavat NUMENTO, Slash the Smile ja Terror Shark. Tuska Festivaaleilla esiintyneen kolmikon ilmaisu yltää aina kierosta progemetallista suoraviivaiseen hardcoreen – unohtamatta koukuttavia kappaleita!
NUMENTO
Illan pääesiintyjä koostuu kokeneista ja taitavista muusikoista. Viisikko on työstänyt kolmatta albumiaan ja jo edellinen, vuonna 2022 julkaistu "The Vile Entity" sai suitsutusta osakseen eri metallimedioissa. Yhtye takoo progressiivista metallia death-mausteella.
Slash the Smile
Jyväskyläläinen, vaihtoehtoista metallia esittävä hymyilevä poikabändi on työstänyt debyyttialbumiaan vuoden alusta alkaen. Maistiaisia uudesta materiaalista on luvassa myös Loosen torstai-illassa! Yhtye esiintyi kesän 2023 Tuska Festivaaleilla Kvlt-lavalla.
Terror Shark
Kaksi albumia tinkimätöntä East Pasila Hardcorea (EPHC) julkaissut Terror Shark takaa viihdyttävän ja energisen keikan. Yhtye lämmitteli menneenä kesänä On the Rocksin lauteet Tuska-jatkoilla legendaariselle HC-yhtye Ratfacelle. Terror Shark esiintyy tänä vuonna ensimmäistä kertaa Suomen rajojen ulkopuolella.
– – –
AIKATAULU
20.30 ovet
21.00 Terror Shark
21.45 Slash the Smile
22.30 NUMENTO
– – –
Liput  8 euroa (+3,5 € eteispalvelumaksu).
– – –
NUMENTO
SLASH THE SMILE
TERROR SHARK