Rückwater, The Moonhaze & Roadog
15 joulukuun @ 9:00 pm

-

11:00 pm

7€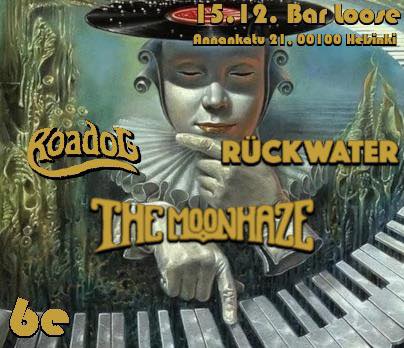 Kolme kovaa keikkaa yhden illan aikana joulukuussa!
–
AIKATAULU:
20.30 ovet
21.00 Roadog
21.45 The Moonhaze
22.30 Rückwater
Liput 7 € (+3,5 € eteispalvelumaksu).
–
RÜCKWATER
3-headed stoner rock monster from Tampere. Rück & Röll!
–
THE MOONHAZE
Screaming guitar solos, thunderous bass & catchy groove. The Moonhaze, a psychedelic and progressive hard rock trio from Helsinki, Finland. Unique sound of the music is influenced by a wide variety of bands from Abba to Zappa.
–
ROADOG
Roadog on espoolainen stoner rock powertrio joka louhii lujaa ja estottomasti – bensaa suonissa, virne suupielessä, volat kaakossa ja tunnelma katossa. Tsekkaa B-luokan actionleffoille kumartava Full Throttle -musavideo täältä: 
https://www.youtube.com/watch?v=qyl8aO0YSzY…